Blog 5
Multi-culture & Making
Research & enquiry
I have been lucky enough to travel to a number of countries recently, last week I went to Austria, it was interesting being in Vienna for the 100 Centenary of Armistice. I saw an exhibition about Austria politics and history of the city during the war. The city is steeped in history. I went to The Albertina and the Mumok contemporary art galleries. Mumok standing for museum moderner kunst stiftung ludwig wien.
Last weekend was a time for reflection on the many men that lost there lives, it was a world altering conflict, countries were divided. 100 years later and it feels as though these dangerous nationalist traits are rearing their ugly heads once again, along with the misuses of fake news circulating. During the exhibition in the MUMOK I saw nazi propaganda illustrations and another exhibition on non conforming contemporary music which was very interesting. At held an exhibition of contemporary art they hold in there collections made in the second half of the twentieth century which had displays of Warhol, Picasso, Braque, Edvard Munch, Rudolf Hausner, Franz Sedlacek and many more. They had fantastic displays at The Albertina with Monet, Chagall, Picasso, Richter. Going to new places and seeing art before my eyes always injects me with creativity.
I have been making a series of illustrations as part of my practice 1 keyword project, stemming from the word 'multi'. Each of these drawings have been taken from my day to day living, things I have noticed, seen, experienced, heard or read. Each drawing has parts that have been made at different points across the day. Showing multiple times in one image, a visual diary.
The airport is always buzzing like a hive of bee's. How many cultures are evident in how an area feels like and looks like. Austria had more history than I realised because the city itself is beautiful, it was littered with fountains and grand buildings of a gothic style, there was an abundance of stoneworkers in times gone past I can only imagine. There is history of their of the Austrian empire lining the streets reminding me of mixture Rome and Berlin.
My idea of drawing certain parts of my day from my experience of Vienna has made time stamping with what I've seen, creating layers.
Marks associated with sounds and vision whilst soaking up the city.
The drawing above with the shadow of ideas was about my time spent inside the Mumok galleries, some of the amazing contemporary art inside and the structure itself. I like to play with scale and the idea of a picture within a picture. You might be able to see the smaller framed drawing with the ladders and then the larger picture frame going around the whole drawing.
After all a lot of these sketches are drawings within a drawing. Confusing right? I mean at certain points along the day I will stop at something that interests me, make a sketch on an area of the page then carry on. At a later stage of the day I will stop again and add too it with something else I see of interest. By the time I go to bed the one page of drawings and writing is like a slightly disjointed time lapse of my experiences and reflections.
This drawing is combination of my time at a train station in the north of the city shown in the picture above and my reflections at seeing people staring out of the train window many looking lost in thought.
The drawings above is a Mozart quote because he was literally everywhere in Austria and I went to watch an orchestra with some of his beautiful music combined with the 62 metre Ferris Wheel that is a popular viewpoint for the city which is shown in the picture earlier on in the blog.
I have made more illustrations but I won't upload all of them and completely bombard. I have also made drawings like this from a visit to Madrid  and a few other places, that have all been extremely interesting, experiencing different cultures helps personal growth. Unfortunately we can't travel all the time, I work at The Wilson Art Gallery & Museum in Cheltenham, England, it gives me opportunities to interact with different people all the time and invigilate galleries whilst exhibitions are on interacting with visitors. This plays well into making these daily drawings too. I have documented things with pictures when I can to have references for parts of the drawings. I have drawn some of them on a diary book with lined pages because it has become a bit like a diary in a way, a diary of images, words, sounds buildings and streets.
I like that there is a certain amount of ambiguity in the images, leaving a little to the imagination of the viewer. They can even attach their own narratives to the images. I have started using wording within my drawings lately because words are powerful, they can be anyway. They can resonate, connect or distract a viewer.  Being open to more than one interpretation works well for my Keyword 'multi'.
An artist that I have looked at that has influenced me in my mark making is William Kentridge and his fantastic charcoal drawings and stop motion animations.
Cambio, 1999, mixed media.
image source – https://www.tate.org.uk/art/artworks/kentridge-cambio-p78560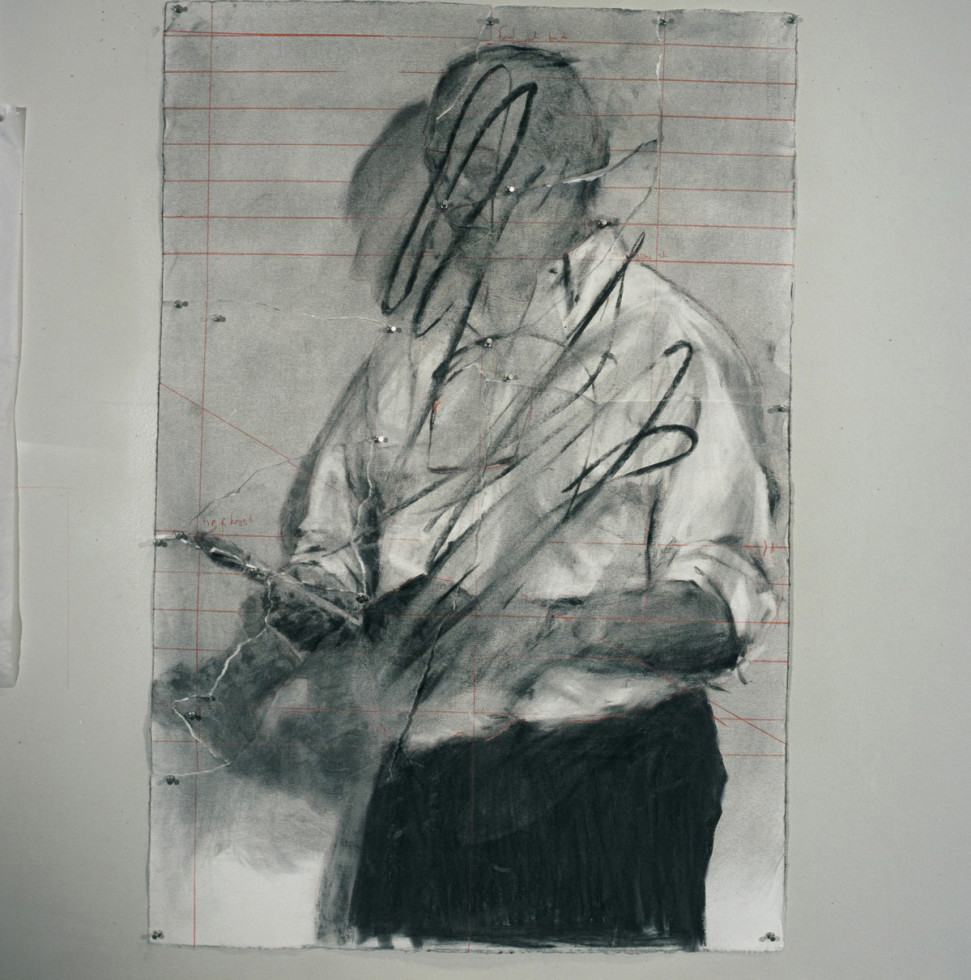 7 Fragments, 2003, Charcoal on paper
image source – https://www.modernamuseet.se/stockholm/en/exhibitions/william-kentridge/7-fragments-for-georges-melies-journey-to-the-moon/
There is a brilliant video made by William Kentridge on his desire to create and the meaning behind the process of his work. Please use the link below to watch.
https://www.bing.com/videos/search?q=william+kentridge+interview+about+drawing&view=detail&mid=B12DF3DD5F894C4228C0B12DF3DD5F894C4228C0&FORM=VIRE
He opens by saying 'The films don't have meaning that gets drawn, the films come out of a need to make an image…the meaning emerges along the months of the making of the film. So the only meaning they have in advance is for the film to exist'. What I love about his work is the history of the mark, you can see some of the charcoal marks made then rubbed away, then worked in to then rubbed away. That has influenced me with my mark making during my daily drawing project. It's okay not to be a defined finished image, that is not the point the point is to record, to be free and to reflect on what I have experienced. Sometimes that creeps in to my head when making and I find it suffocating "oh it doesn't look perfect or it doesn't look polished" so embracing this way of working has been freeing and helped me.
So whilst thinking of multi, I wanted a different way for someone to experience a sketchbook drawing. So having looked at the illustrator & graphic designer Chritoph Neimann in a previous blog I wanted to make my own 360 degree sketchbook pages. I am still experimenting at how best to do this but have some early stages examples on my fb art page below, click on the images below and they will take you to the examples ….
I would like to experiment more with this way of presenting work/experiencing work. I can image that experiencing stories in VR headsets, being surrounded by the illustrations would be very enthralling, add in more layers of sound and audio description even more so.
References
https://www.tate.org.uk/art/artists/william-kentridge-2680
https://www.bing.com/videos/search?q=william+kentridge+interview+about+drawing&view=detail&mid=B12DF3DD5F894C4228C0B12DF3DD5F894C4228C0&FORM=VIRE
https://www.apollo-magazine.com/black-white-interview-with-william-kentridge/
https://www.bing.com/videos/search?q=william+kentridge+interview+about+drawing&view=detail&mid=2968C74807532A551C9B2968C74807532A551C9B&FORM=VIRE
https://www.modernamuseet.se/stockholm/en/exhibitions/william-kentridge/7-fragments-for-georges-melies-journey-to-the-moon/
https://www.tate.org.uk/art/artworks/kentridge-cambio-p78560