Research & Enquiry
Blog 2
How has Surrealism influenced modern day illustration?
For my second blog I would like to explore how Surrealism has influenced modern Illustration. Why, I hear you ask? I am transitioning from my previous fine art study to illustration, and I want to stitch together influences and connections to give me a rich tapestry of research to launch me in to this illustration study.
Secondly why Surrealism? Well, the Dada, Cubism, Surrealism, Futurism, Constructivism period from 1910 up until the start of World War II is my favourite period of modern art because it was a sustained period of accelerated development and was the beginning of graphic design and illustration being conceptual and not simply representative. Also I have always found Surrealism aesthetically and conceptually interesting, enjoyable, confusing and like a riddle you need to work out, I like that. I have been reading "Illustration a Theoretical & Contextual Perspective", and "Meggs' History of Graphic Design", and have noticed some ties between these periods and modern illustration.
It makes sense to look at the original definition of what surrealism was, in the first Manifesto of Surrealism, published in Paris in 1924, Surrealism's founder André Breton, defines Surrealism as "psychic automatism in its pure state, by which one proposes to express – verbally, by means of the written word, or in any other manner – the functioning of thought."
Initially it was based on investigating subliminal thinking, hidden meanings, dream states and untamed thoughts, as time has passed it developed to being conceptual representation of the bizarre. Salvador Dali's paintings as fantastically wacky and dream like as they, were actually very technical, highly skilled, compositionally complex, tone building with carefully portrayed perspectives. So by making the work in that way it partially bypassed the untamed nature of the original thought outlined by André Breton. It wasn't automatic, he had clearly put a lot of thought into constructing those images. Despite that I have always loved his paintings, the uncanny image was a skill surrealists developed, making unforgettable images. However what it did do as a movement was create a development in conceptual imagery, that seeped into western culture. 
image source – https://www.moma.org/collection/works/79018
Having been to the Salvador Dali museum in Bruges, and having seen exhibitions of his work in Berlin, I found his printmaking a closer portrayal of André Breton's 'psychic automatism'. The process of printmaking is much quicker, less over-thought, compared to his hand painted dream photographs, more raw, less defined and instinctive. However his paintings are fantastic, his exploration of dreams and subliminal symbols are fascinating.
Looking at the creative techniques the surrealists developed, it might seem on the surface to escape the harshness of post world war life, but surrealism positioned itself not as an escape from life but a revolutionary force, a movement aimed at the wholesale liberation of the individual aesthetic. Unlocking the subconscious, unaffected by external influence. Sigmund Freud was a big influence for them, his writing exploring the unconscious parts of the mind.
To find ways of creating work from the unconscious they developed a collection of strange and wonderful techniques.
Collage was a technique developed by the Dada movement but was also popular with surrealists assembling different items to make a whole. For example "The Hat Makes the Man" made in 1920 by Max Ernst.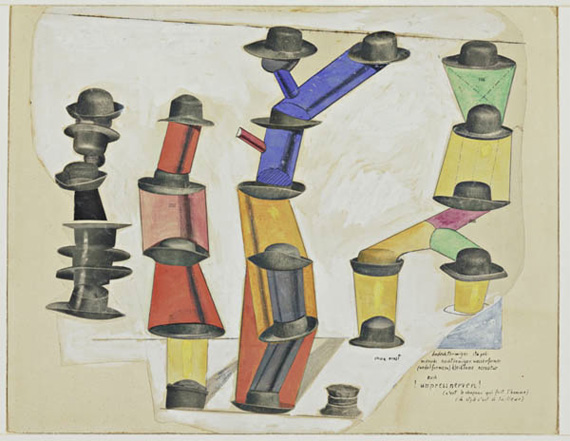 Image source https://1stwebdesigner.com/modern-surrealism/
Cubomania was a technique developed by surrealist

Gherasim Luca where an image is diced into squares and then randomly reconstructed to create a new image.

Fumage was a technique using fire and candle smoke to create impressions onto a canvas.
image source – http://awilliamson18weebly2.weebly.com/techniques.html
Grattage was a method that involved scraping paint of a canvas to show imprints of what laid beneath.

Decalcomania was a technique of layering chunky slabs of paint onto a surface and placing foil on top whilst still wet then peeling away leaving a pattern that would form the base of a painting.

Esclaboussure was a method of splatting turpentine down onto wet oil paint, leaving random marks.

Automatic Writing was an important technique, answering questions at speed by disengaging the filter of the mind.
What links have I noticed between Surrealism and modern illustration? The development of conceptual representation in imagery is a link. Conceptual imagery and Surrealism described in page 68 of "Illustration, a Theoretical & Contextual Perspective" written by Alan Male as, "a generalised definition of a visual metaphor might suggest the description of an image that is imaginative, but not literally applicable. When applied to the discipline of illustration, it is commonplace to describe this form of imagery as being conceptual. This implies a way of depicting content by utilising a number of ideas and methods of communication, illustration, symbolism and expression. This type of visual stylisation started to evolve during the 1950's in the United States when issues and themes, as publicised in magazines, were becoming more critical and complex. There seemed a need to present the viewer with much more enigmatic and ambitious images that invented deeper interpretation. Up to this period, illustration was more or less dominated by explicitly literal and vividly realistic drawing and painting."
Male goes on to say, "whilst this particular language is still successful and appropriate for dramatic reconstructions across all contexts of illustration practice, the need to express deeper ideas rather than portray verbatim scenes has meant that conceptual illustration is now the dominant style."
It appears that surrealism perhaps instead of having a concrete influence, was more of a door opener for conceptual image making that has seeped into popular culture. What exactly is the visual language of conceptual illustration, and broadly speaking what does it look like? Rene Magritte the Belgian surrealist painter seemed to be a more transferable source of Surrealism. Iconic images that live on today such as his "Son of Man" painting depicting a floating apple in front of a man with a bowler hat have been recycled many a time in modern culture. The amazingly simple yet effective idea of having a painting within a painting in "The Human Condition". The clever playful nature of his and other surrealist ideas played its part in post modern reflective thinking.
In page 68 of "Illustration, a Theoretical & Contextual Perspective", Alan Male explains, "Rene Magritte…has had a considerable influence on early conceptual illustration…Magritte presented a clearer, though enigmatic, symbolic visual language that illustrators found could be applied to contemporary themes and issues as commissioned by the commercial marketplace."
Rene Magritte, The Human Condition, 1933. image source – https://www.renemagritte.org/the-therapist.jsp
Rene Magritte, The Therapist, 1937. image source – https://www.renemagritte.org/the-human-condition.jsp
Rene Magritte, The Son of Man, 1964. Image source – https://www.renemagritte.org/the-human-condition.jsp
Magritte said of this painting, "at least it hides the face partly. Well, so you have the apparent face, the apple, hiding the visible but hidden, the face of the person. It's something that happens constantly. Everything we see hides another thing, we always want to see what is hidden by what we see. There is an interest in that which is hidden and which the visible does not show us. This interest can take the form of a quite intense feeling, a sort of conflict, one might say, between the visible that is hidden and the visible that is present."
"These types of illustrations have been…commissioned to promote, comment and give identity to issues related to the economy, politics and society."
source – Page 68, Illustration, A Theoretical & Contextual Perspective. Alan Male
This also links in with my continuing exploration of the keyword 'multi' as conceptual meanings are not necessarily obvious in representation, there are conceptual layers to what is being put across aesthetically. The surrealist intention to tap in to a raw state of mind, using 'more than one' technique. I can also look at adding this to my own practice, the emphasis on more experimentation.
Watch this video to see more on how surrealism held stylisation in its time leading up to World War II and how it has influenced todays imagery.
What modern illustrators can I find that have been directly or indirectly influenced by Surrealism? With digital technology now a key component in illustration, there are even more ways to create. There is no need for traditional paint on canvas, if one so wished, photographs can be manipulated to a greater degree than ever before. Here are a few artists I have come across that have clearly been influenced directly or indirectly by Surrealism.
Faceless Composition by Lara Jade. Image source – https://digitalmediamarketingblog.wordpress.com/2013/02/09/modern-surrealism-faceless-composition-by-lara-jade/
Madalina Iordache , digital manipulation. Image source – https://madalinaiordache.myportfolio.com/rain-spell
Elliott Earls, Cranrbook Academy of Art poster, 2008. Image source – https://designobserver.com/feature/a-dictionary-of-surrealism-and-the-graphic-image/37685
M/M (Paris), theater poster, 2005. Image source – https://designobserver.com/feature/a-dictionary-of-surrealism-and-the-graphic-image/37685
Rob Gonsalves, Arborael Office, 2011 image source – https://huckleberryfineart.com/product/arboreal-office/
One of the traits that flowed into Surrealism was the ability to conjure up the marvellous, to make the image slightly unsettling, unforgettable, being one of its central concepts. Rick Poyner is a writer, critic, lecturer and curator, specialising in design, photography and visual culture. He founded Eye, co-founded Design Observer, and contributes columns to Eye and Print and is Professor of Design and Visual Culture at the University of Reading. Conjuring the marvellous is an elevated plane of thought, he writes, "the moment when reality seems to open up and disclose its essence more fully.' In the first Manifesto of Surrealism, André Breton writes, "the marvellous is always beautiful, anything marvellous is beautiful, in fact only the marvellous is beautiful" and,  "Surrealism offered a psychic mechanism to gain access to a superior reality."
Surrealism as a movement had an important impact in culture, art, literature and politics. It is best summed up as a creative act of endeavour towards liberating the imagination. It is still alive to this day in that sense. Plenty of artists across this planet are influenced by Surrealist techniques, ideas and styles.
How can I use this research to influence my work? Surrealism has seeped into my practice before but it is interesting how it can provide different approaches to making an image. I will try some of their techniques devised to facilitate creativity.
It is worth mentioning that the Dada movement was a huge influence on Surrealism and that Dada also influenced graphic design so there are ties across the board with illustration and graphic design overlapping at times with the use of typography, photographic manipulation and collage.
References
Male, Alan. Illustration A Theoretical & Contextual Perspective. Second ed., Bloomsbury, 2017. page 68 – 73
Meggs, P.B. & Purvis, A.W., 2016. Meggs history of graphic design, Hoboken, NJ: Wiley.The Influence of modern Art, page 270 – 273
manifesto source –  Cinema Antecedents, Edison, Lumière, and Méliès, tcf.ua.edu/Classes/Jbutler/T340/SurManifesto/ManifestoOfSurrealism.htm.
Rick Poyner, A Dictionary of Surrealism and the Graphic Image. Design Observer. Available at: https://designobserver.com/feature/a-dictionary-of-surrealism-and-the-graphic-image/37685 [Accessed December 10, 2018].
Rick Poyner, 2007. Eye Magazine. Eye Magazine | Feature | Anatomy of a magazine. Available at: http://www.eyemagazine.com/feature/article/dark-tools-of-desire [Accessed November 10, 2018].
James Voorhies, Surrealism. metmuseum.org. Available at: https://metmuseum.org/toah/hd/surr/hd_surr.htm [Accessed November 10, 2018].
Editorial Team ed., 2018. Modern Surrealism and How It Is Used in Design Today. 1stWebDesigner. Available at: https://1stwebdesigner.com/modern-surrealism/ [Accessed December 10, 2018].
Terry Hemphill, Looking Back to Look Forward: Illustration Styles of the Past 30 Years. Digital Design Trends to Watch in 2018 | Create. Available at: https://create.adobe.com/2017/3/10/illustration_styles_of_the_past_30_years.html [Accessed November 10, 2018].
Anon, metmuseum.org. Available at: http://metmuseum.org/toah/hd/surr/hd_surr.htm [Accessed December 10, 2018].
image source – Anon, 2013. Surrealism Art&Illustration. Pinterest. Available at: https://www.pinterest.co.uk/12344321f/surrealism-art-illustration/ [Accessed October 10, 2018].
"Joanna Fiduccia." Joanna Fiduccia, http://www.joannafiduccia.net/.